25 Feb

Amazon FBA Shipping Requirements: Step-by-step Guide To FBA Packaging

Owing to the boom in the sector of e-commerce and global marketing, more and more sellers are taking on the internet for selling their products. This is also because customers these days prefer using their digital devices to make most of their purchases as they get a plethora of options with the click of a button.

However, it is difficult to create a significant mark as an individual seller in the sea of the similar product being sold all over the internet. Also, there are several considerations to be made regarding warehousing and logistics. Amazon has come up with an efficient solution for these issues faced by several sellers in the form of Amazon FBA.

Fulfilment by Amazon (FBA) is service provided by Amazon through which you can get your products stored exclusively at Amazon warehouses before they are delivered to your customer. Amazon also lists your products on its platform and takes care of getting them delivered right at your customers' doorsteps.

However, there are certain specific regulations you need to follow in order to avail these services. You need to follow several FBA packaging requirements while packaging your products, which are examined before storing the products at the Amazon warehouse. If you are not in sync with the Amazon packaging requirements, you will no more be eligible for FBA.

Amazon Packaging Requirements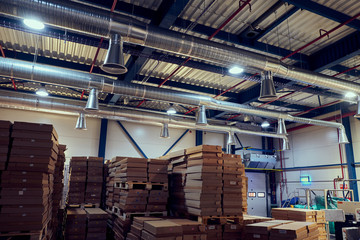 Before you undertake the packaging of your products and send them to be stored at Amazon warehouses, make sure you comply with all the requirements set by Amazon. Here are brief Amazon packaging guidelines you should keep in mind to ensure a smooth and seamless FBA process.
Packaging Materials
Here are the materials you can use for packing your products according to the Amazon packaging requirements:
Foam sheeting made of polythene
Bubble wrap
Air pillow that is inflatable
Full paper sheets
Here are the materials that are not acceptable for packing your products. These regulations are also in sync with the Amazon FBA shipping requirements:
Foam strips
Shredded paper
Styrofoam
Crinkle wrap
Boxes To Be Used
Here are the kinds of boxes you should be using for the packaging of your products:
B flute boxes
Boxes made from Regular Slotted Carbon (RSC)
ECT-32 (Edge Crust Test)
Boxed having the burst strength of 200 lb per square inch
Packaging Of Individual Products
Here are the guidelines you need to follow while packaging individual products:
You need to have all the packaged individual products labelled with respective barcodes.
All the items stored in one package need to belong to the same Stock Keeping Unit (SKU). If you are selling several different items in the form of a set, you will need to package them together in a single unit.
You need to ensure there are no other barcodes on the packages apart from the one put by you.
Always ensure that the barcode labels do not fade away by using laserjet printers.
Make sure you package sharp or sensitive products using materials that would provide sufficient cushioning to them (such as bubble wrap).
You are allowed to use regular cardboard boxes to package your products.
FBA Packaging Checklist
Here is a checklist for you with all the parameters you need to consider if you are confused as to how to ship to Amazon FBA undertaking faultless product packaging:
Always use a box that is rigid, has six sides and has its flaps intact.
Use a single address label and make sure it has all details regarding delivery and return mentioned clearly.
Make sure all the boxes contain individual FBA shipment labels that are printed using Shipping Queue.
Each pallet used for shipment must contain four labels, one being on the top centre of every side. If you are shipping different case-packs using a single carton, make sure you put the unique shipping on the master carton.
Do not forget to remove old markings and shipping labels in case you are reusing any of the boxes.
Wrap all the items you want to ship separately.
Use sufficient packaging material and a strong tape that is designed for undertaking shipments.
Make sure there is a cushioning layer of at least two inches between the items packed in a box.
Make sure the contents packed in a box do not move with jerks by shaking the box after the packaging is over.
It is advisable to use boxes having the dimensions of 6" x 4" x 1" and weighing a minimum of 1 lb.
Amazon FBA Label Requirements
Making sure the packaging of your products is according to Amazon's standards is not enough to make you eligible to use FBA services. You also need to pay special attention to the labelling of your packages, failing which you will have to pay adequate fines to the company.
Labelling The Cartons Of Your Products
Once you use your Seller Central Account to set up a shipment to Amazon FBA, the system will produce relevant labels for the products to want to ship. In case your shipment is large, you will require labels to be applied on cartons as well as pallets.
According to Amazon FBA label requirements, you need to label the packages weighing between 15kg-30kg as "heavy-weight". Moreover, you need to undertake Amazon FBA labelling in a way that the labels are clearly visible both from side view and top-down angles. You also need to ensure that every carton needs to have one shipping ID.
Amazon Pallet Labelling
There are customers who complain saying, "why does Amazon take so long to ship?" One of the key reasons behind this is inadequate packaging. As a seller, it is important for you to know that pallets are important to get your products transported easily.
Here are some of the most important Amazon pallet requirements you need to keep in mind while getting your packages ready for shipment:
Every pallet should have a label bearing the name of the seller, "to" and "from" addresses and PO Box (if there is any).
The upper right corner of the pallet should bear the number of cartons and the number of pallets used for the shipment.
In case of undertaking bulk shipments, all pallets should contain similar items.
There should be a label of "Mixed SKUs" or "Mixed Merchandise" for all the pallets having mixed items.
You should use standard four-way access pallets having dimensions of 1200mm x 1000 mm for shipment.
You need to make sure that the pallets are stretched wrapped using clear plastic. The pallets must also bear a label saying "do not break stretch wrap".
The total weight of the pallets used for shipment must not exceed 500kgs.
The total height of a pallet must not exceed 1.8 metres (including the pallet).
You need to make sure that your products do not hang over the pallet's edge.
If there are any damaged pallets found by the authorities, they will not be accepted for being shipped and would be rejected at the expense of the seller.